ANNE HUDSON
A talented finger painter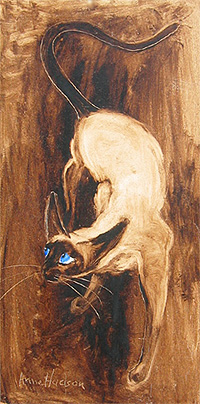 "I am terribly sorry, I am terribly sorry!" I woke up in the middle of the night by an, in the dark, pretty scary person coming up my stairs to the upper floor, where I sleep. It was Anne Hudson! I did not even know she was coming. In those days we could sleep with our doors open and there was always a bedroom in the cellar for our friends to just walk in and use. Often we had a nice surprise in the morning. But this time Anne, for some reason, had forgotten to change her money on the boat from England and then she could not pay for the taxi out to our place. This was very typical of Anne also not letting us know, that she was coming. But she was always welcome. We loved Anne very much and were happy she choose to stay at our home.
I do not really know much about Anne except what I could see for myself. She was obviously very talented as a finger painter. I liked her Siameses and her horses best. She had a way of making their elegance show. As she travelled around Europe to different cat shows, she picked up peaces of the different languages and nearly learned to speak them! Another talent of hers. I do not think she had much schooling and her English was of a cockney dialect.
At the shows you could find Anne sitting on a stair with all her colors and stuff spread around her. Anne had long greyish hair and often wore long skirts. This gave her a bit of a hippy appearance.
If you look out the window at the back of my house, you do not see much. There is a high mountain wall going almost straight right up. One day Anne says "What a lovely mountain! Look at the fine structures and patterns." This made me very happy since Anne is the only person, who has seen the beauty of my lovely mountain except for myself. Things like that makes you feel closer to someone, doesn't it?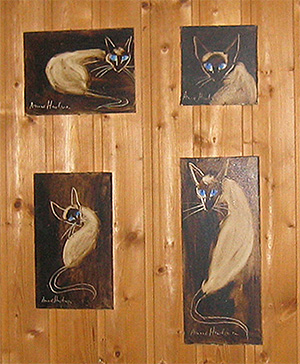 One day I had a very sad telephone call from Anne's son. He told me Anne had developed a very fast kind of cancer and died. It was a nasty chock, but I am very grateful he contacted me. I am also very grateful that I got the opportunity to get to know Anne, a so very fascinating woman.
---
Further down on this page there are even paintings for sale. If you like Anne's paintings, you should know there will not be many chances to buy one. I can help you get in contact with those, who wants to sell
---
Hello,

I found your page on Google Image, while I was looking for information on Anne Hudson. I have recently acquired one of her paintings although I have been familiar with it for about 26 years. I work in a furniture shop and they had two of her paintings on display although as far as I know they were not for sale.
Following a clear out, I acquired one of these paintings which I have always admired.

It is a painting of 3 cats on the move, very simple lines but very affective.
The second painting which is still hanging in the shop is of Ballet Dancers, again very quick and simple lines.

I have attached photos of the two paintings for you to see.

I hope you enjoy them, Suzanne Pickup
This page was first made in some years back. Then I get the above from Suzanne, which made me so happy. And now another feedback. I think this is awesome and shows the very best of how the Internet can be used. So grateful!!
---
Hi Maud, picture of an Anne Hudson picture that hangs in my vintage clothes shop, its three Siamese in chalk by the looks of it .Everyone who comes in comments on it. mark

I will keep you posted if I am lucky enough to find another of her works. I look at antique fairs and boot sales now when out buying vintage fashion. I would love the ballet dancers, it's really cool. mark
---
And now I have a new contact. Isn't it absolutely awesome!
"Dear Ms. Dickson
Thank you for providing information about Anne Hudson. I live in Vancouver, B.C., Canada. Many years ago I purchased an Anne Hudson painting for a few cents in a local thrift store. It is the drawing of a single Siamese cat. I find the painting stunning in its simplicity and accuracy.
I had the painting hanging on my front veranda for some time. One day a young woman stopped and said, "Oh, my gosh, where did you get that painting? My grandmother who lived in West Vancouver bought a painting just like that many years ago in London, England. That was the closest I ever came to knowing anything about the painting or the artist.
.... will try to get a friend to photograph and forward a picture of the painting to you.
Once again, thank you for solving a mystery.
Sincerely, Carole"
"Yes, the first photo you received was the back of my Siamese cat, Ricky.
Hope now you have one of him sleeping under the Anne Hudson painting and one photo of the painting itself."
---
Once again had a nice mail about Anne. Sooooo very welcome. This "exhibition" is getting quit unique, don't you think?

"Hi Maud

I enjoyed seeing the Anne Hudson paintings on your site and have attached a photo of the painting I have. I bought it roughly 1974/75,when I was showing my first Persian kitten in the neuter section, an Odd Eyed White called Fortina Solitaire. I think it was at the Notts and Derby Championship show. Whilst wandering around the stalls waiting for the results and to be permitted back into the show hall I came across the painting of an Odd Eyed white and obviously bought it. I have a feeling it only cost a couple of pounds. I never managed to find this sort of painting again although I went to many many shows over the years

Hope you like it, I most certainly enjoy it
Miv Riley
---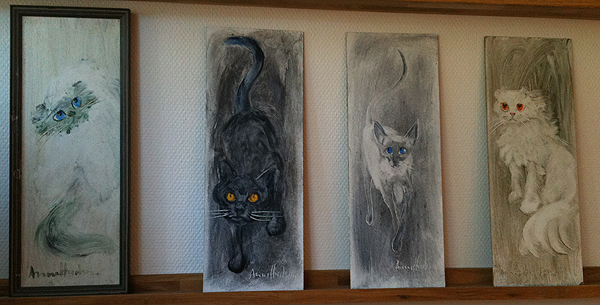 This picture is taken at SVERAK's office. SVERAK is the main organization in Sweden for cat clubs with over 50 members.
---
Today I received "the jewel of the crown" and one that I have been hoping for. A mail from one of Anne's relatives.
Here is a copy of the letter:
"Hello
I am the daughter of Anne Hudson. It was lovely to come across your site, with the kind words about my mother and photos of her paintings.
Sadly Anne died in 1977, at the young age of 57. She had always painted throughout my childhood, but in her later years she started traveling with her pictures to cat shows in the UK, Scandinavia and Europe. She loved it, and sent home many letters, telling us of new friends she'd met and places she'd seen. I think it was one of the happiest periods of her life, and I'm so glad she got to do it before she died.
Anne mainly painted cats, but as your site mentions also painted horses and ballet dancers. She painted dogs and trees, and a few portraits, mainly of the family. It was a bit of a hand to mouth existence and she would paint whatever she thought would sell.
She loved cats and we always had at least one as part of the family. And I carry on the tradition with two cats as part of my family at the moment
My Father died a couple of years ago and my brother and I have quite a few of mum's paintings and a box of letters about her trips abroad, which I intend to transcribe when I get the chance.
As I type this one of mum's pictures of a beautiful green eyed tabby cat looks down at me from the wall!
Regards
Romilly Hudson
..........
Hi Maud
I have forwarded a copy of your response to my brother and sister, as I know they will be interested.
I have recently retired and my partner and I share our time between England and Italy. Currently we are in Italy and most of Anne's paintings are in our English Home. I will photograph some of the ones here and send them to you. Also mum's letters and my photo albums are in England. We return in November.
I looked at the pictures of your home it looks lovely. Mum fell in love with Sweden. She did a painting of my brother lying in a meadow, which I think was inspired by the death of an artist, I can't remember who.
I'll be in touch soon when I have photographed some of mum's paintings.
Ciao
Romilly
---
Another contributor! Especially I like the "young lady-stuff" (being 68, hehe)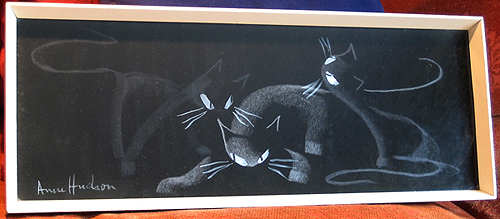 Hello Maud,
I came across your wonderful web site whilst searching for information regarding the artist Anne Hudson as I've recently acquired one of her pieces which you will find attached. It is very similar to one already on your site.
As well as being a professional Photographer I deal in fine art and antiques. Anne's picture captivated me frankly, I simply adore it!
Have to say your web site is truly fabulous! Keep up the good work. You should be most proud of yourself young lady. I particularly liked your line about loving an animal. I concur without hesitation!!
Very kind regards, Mario
---
My first job was an apprenticeship at Ross Projects, Bourne End Buckinghamshire UK. When I was 16 Years old in 1962, making wooden products we made spice racks, room dividers, record cabinets and TV tables for Times Furnishings. One thing I remember is framing pictures of cats and horses, a Lady by the name of Anne Hudson would come to work and paint pictures of cats and horses. My older brother who worked with me, bought two pictures of cats for Mum done by Anne Hudson for Christmas that year, and I have both pictures now, I hope this is of interest.
Yours Fatherly, David Camden.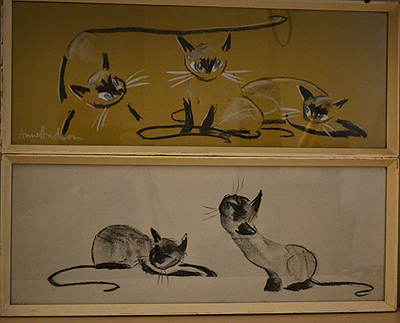 ---
One by one I get these wonderful contacts. This painting is even for sale!

Hello there
I have an Anne Hudson painting, which belonged to my mother. I thought you might like to see it.
Also, I am downsizing, and am considering selling it. Do you have any ideas about how I could find someone to appreciate it? My mother adored it, and it has been lovely finding your site and seeing similar paintings
Best regards, Daniele Minns
---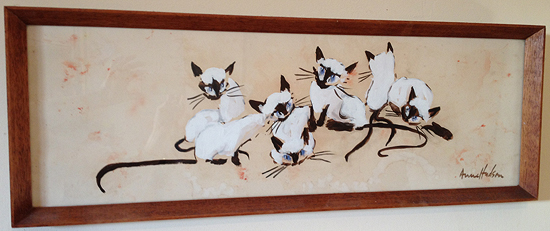 I am so happy to have found your web site. As a little girl I had a painting of 6 Siamese kittens on my wall which I loved. My mother purchased the painting after 1967 in a second hand shop in Muswell Hill North London. It hung on my wall until relocating to my grandmothers and then back to me and is now back on my bedroom wall. I have always felt that Anne truly understood cats because she has captured them perfectly. It has been fascinating reading your sight and I will send a photo of my painting to add to it if you wish. Yours sincerely Caroline Walton
---


These paintings MIGHT be for sale
Dear Maud,
You have created a lovely web site, it must have taken a lot of work well done.
I have 2 Anne Hudson paintings that belonged to my late mother. I have had them for 15 years now, but am in the process of starting my own business and need to raise some capital. Do you know if any of Anne's paintings have sold and for what value?
I would be so grateful if you could give me even a rough idea.
Thank you & kind regards, Susan Foley Coughlan.
---
One precious letter again. I hope you guys realize how much I appreciate to hear from everyone. Look at this fantastic painting and enjoy.

Dear Maud

How are you?

This picture hung in my London home when I was growing up. Today I was clearing my Mother's house and came across it. I remember my Mother telling me that it was by a 'proper' artist . I think she may have even known her. Anyway she obviously loved the picture as there it was safe and sound 50 years later. I seem to remember there was another one similar, but that was not there today.

So I came home and Googled Anne Hudson and was lucky enough to come across your site.

I thought you would like to see the horses in all their movement and beauty and they might make a good addition to your on-line collection

Thank you,

Ruth
---
Thank you for your page on Anne - I have attached the two pictures I currently own, but have just listed on ebay. The images, I hope, will be of interest to your fans and yourself /John

Lots of thanks for your contribution to Anne's page. Did you get them sold? May I ask how much? /Maud

I did- £35 for the pair- and off to a cat lover I think /John
---
Hi

I have the attached picture which is hanging in my hall, I love and it has been admired. I have often thought of going online and finding out more about the artist. I found your site very interesting and it was really strange seeing more ballet dancer figures. The picture belonged to my grand mother who I think brought it up from London when she moved to Oban circa 1955. I have had it re mounted and framed as my granny was a very keen smoker!! Unfortunately she died a few years ago so I have no way of really knowing how she came by it. Her name was Flo Webster (maiden name McDonald). Maybe someone out there knows the connection.

Regards /Lorna Conway
---
Dear Maud,

This small Siamese cat painted with not much touches, so simple and so nice and cute, catched my eye in 2005 in one Salvation Army shop in Queenstown, New Zealand.
I used to photograph wildlife and I love animals so I couldn't resist and bought it for few NZ Dollars.
As I had along several years in Brazil an small framerie, I also truly enjoy to see and touch its elegant golden color oak frame.
Along the years, I moved to Wanaka and now in Christchurch, keeping it and always wondering who is that talented cat painter ?

Finally, today the Google showed me your beautiful site and now I am happy to know Anne Hudson, thanks to your lovely job. Well done Maud!

And thanks to Romilly Hudson sharing with us the memory of Anne.
Some people leave really nice things in our World, causing an sequence of so good feelings that is shared and forwarded, so is Anne artwork.
And some people are incredibly perceptive of talent and beauty as you Maud are.

Attached I am sending a picture of Anne's painting and a picture of the back Framer seal, that is Charles & Co. Pembridge Frameries, London.

In few weeks I will move back to Brazil to restart study and, sure, this small cat will be in my luggage!

Maybe, some day in the future, some Museum or Cat Society could make a tribute to Anne with an exhibition off her artwork ?! If so, I will be pleased to lend "my" Anne small siamese cat painting. But for now, sure the Maud's virtual exhibition off Anne Hudson is an fantastic opportunity to share the Anne lovely memory.

A huge thank you Maud. /Regards, /Alex
---
Since I moved into my small bungalow six years ago, my cat ballet pictures have been in the hall where they welcome my friends.
I can remember taking my son in his pushchair to the pond at Hampstead around 1960. We had travelled by bus from Hornsey as I wanted to see all the paintings that I had heard about. It was a wonderful sight, all these colouful paintings tied to the railings. I fell in love with the cat ballet straight away but didn't feel sure enough to buy them so I just took the card that said which gallery you could see them. My husband went off to play golf the following Wednesday or so I thought!
Imagine my excitement when he came home with two of the cat ballet pictures. For years they took pride of place in the sittingroom and when we moved many years later we decided to put them in our bedroom.
When I "downsized" to the bungalow I still couldn't bear to part with them, so they are still with me after all these years. If I can get someone to photograph them I will send you copies to add to your collection. It was one of my friends who suggested I google Anne Hudson
- so glad I did. Thank you
Elisabeth
---
Sorry it has taken me so long to send these photos of the cat ballet pictures that we purchased in the 1960's. Better late than never. The other one will be along in a minute. Regards Elizabeth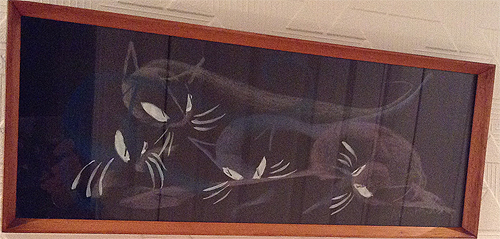 ---
I have a small one of three dancers found at an estate sale. On the back of the picture frame someone wrote, The works of a wandering artist at The Mandrake Club, Soho, London England Sept. 1956. Makes one wonder how it ended up in Little Rock, Arkansas. I can send pictures if you like. I would like to sell it if I knew a price.
Cynthia
---

Hello Maud,
I found your page looking on the Internet for information about Anne Hudson & it was lovely to see other picture by her and a bit of her history. I thought I would send you a photo of my Anne Hudson that I inherited from grandmother about 15 years ago as unfortunately it will be going to auction very soon.
Fiona
---

Just bought this for £3 ! I like the orange and the way the cats look a bit crazy. Was researching her name and came across your site. Hope You Like it. Paul
..............
Wow! A bit different from her usual. Thanks for sharing. I will publish it. Maud
..............
Yes, i agree ...i have just looked and read about all the paintings on your site. The one i have is VERY different but i can look at it for quite some time, its quite mesmerizing. Paul
---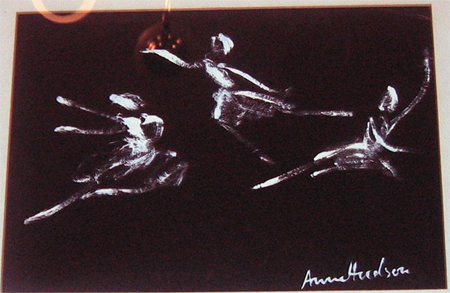 I have a small one of three dancers found at an estate sale.On the back of the picture frame someone wrote, The works of a wandering artist at The Mandrake Club, Soho, London England Sept. 1956. Makes one wonder how it ended up in Little Rock, Arkansas. I can send pictures if you like. I would like to sell it if I knew a price.
---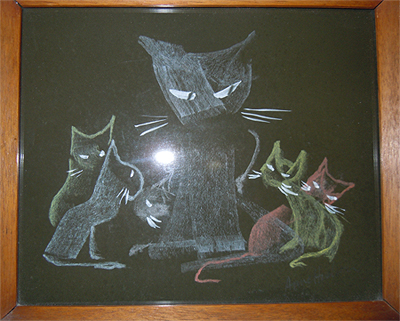 Hi Maud. So glad I found your website about Anne Hudson. I have tried to find out about her since I bought one of her chalk pictures a few years ago. I have attached a photo of it. I think her cat pictures (especially the chalks on black paper) are so stylish.If anyone is still interested in selling a similar picture to go with the one I have I would be very interested to hear from them. Hope you enjoy the picture. All the best, John.
---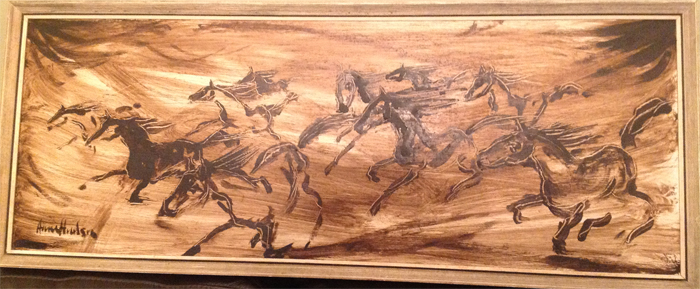 I am really grateful for all the information on your site with reference to Anne Hudson. I have this wonderful monochrome oil on board which has great movement and I would love to know when it was painted? I suspect it was in the 50's judging by the frame?
I also wondered if anyone would like to buy it as I will be selling this and other paintings from my new business Pelican Decor which opens in December. www.pelicandecor.co.uk info@pelicandecor.co.uk Looking forward to hearing from you.
Alison
---

Thank you for your amazing website. I live in Thunder Bay Ontario, Cananda. I found this wonderful painting of a siamese cat with her 8 mischeivous kittens at a thrift store about 3 years ago. I put it on the front seat of my car and it made me smile the all the way home, as it still does every time I look at it.
On the back of the frame is printed ANNE HUDSON 2, BRIDPORT PLACE, N.I. Do you know if she ever lived at this address? I would appreciate anything you could tell me about this painting.
Heather Batson
---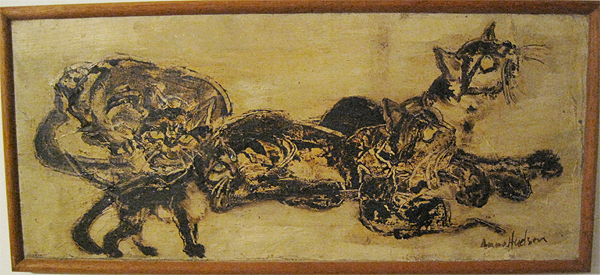 Dear Maud
I bought my painting fairly recently and found your website whilst trying to discover something about the artist. I have to admit that, until I saw Pauls "orange" painting I didn't think any on your website resembled mine. Again, mine is also a bit different from the usual. It is much more detailed and elaborate than the others. It makes your eye travel around trying to see where one cat ends and another begins. Do you know whether it's because its an earlier work perhaps? or it it just a different style? Wishing you all the very best.
Martin Childs
---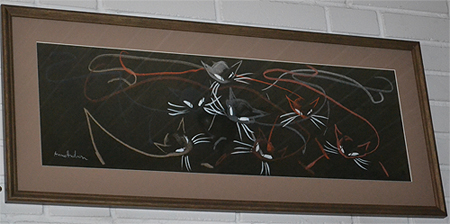 Hi Maud
I came across your web page completely by accident and was very surprised. I was born in Hoxton in 1959 ,when I was a young child my mother worked in the local grocery store. Anne was a frequent customer and I met her many times as my mother often took me to the shop whilst she was working.
I have no idea how my mother came to own one of Anne's paintings but my Mum gave this to me a couple of years before she died. She often talked of Anne and always referred to her as 'bohemian' ,Indeed she was a character. This picture now hangs in our lounge in Denmark.
I hope you find this of interest/ Mandy Grout.
.......................
I don't think I ever met her children, but i definitely met Anne. The family my mother worked for were called Mr & Mrs Yearley, they were well known and respected in Hoxton. Their shop was in Bridport Place / New North Road, London N1/ Mandy
---

hello
we too have an Anne Hudson - we do not know how old it is but we have had it for many years, it hangs in our kitchen...it is quite large - approximately the width of a door frame...we love it ... apologies for the reflections in the glass but various attempts have been made to photograph it and all show some reflection, and we do not want to remove it from the frame as it is chalk and we are not sure whether or not it may smudge with
kindest regards
picture submitted "In loving memory of much missed tabby Herbert Sherbert [ aka Mister Wibbs ] 1991-2013"
he was a special cat - very loving and gentle - my lady's constant companion - he was our eldest cat & died at lunchtime today [he was 22 and a half] ... i was up pretty much all last night with him and all morning cuddling him in the garden in the sun trying to keep him warm and all that - but he was just too old and passed away ... at least I was with him, and he died at home which is what we wanted and not at the vets - I was with him all the time [which was nice held his paw and stroking his ears 'cos he likes that ... he was also full of love and had a heart of gold and so that is how he shall be remembered - my lady misses him terribly as well of course - I have an old carriage lamp burning for him in the garden tonight ...ho hum - poor old Wibbs :(
B&J
---
Hey Maud!
I hope you are the right person
Suomen Rotukissayhdistys ry, SUROK has received such boards many years ago as a gift. Now we are selling these off, and I would ask, do you have a price estimate for the paintings?
Paintings are not damaged, but these have not been framed.

SUROK ry, secretary
www.surok.fi
Maud Dickson

nice! i do not sell the paintings and I do not know if they are worth anything. I just put out out the photos and the information that I have done about Anne Hudson for everyone to see and enjoy. As you might have sen I get a lot of positive responses even from one of her children

if you want, so you can get to publish these images on your pages exact year for these paintings we do not have and it would be wonderful to know it.

Both paintings are really beautiful!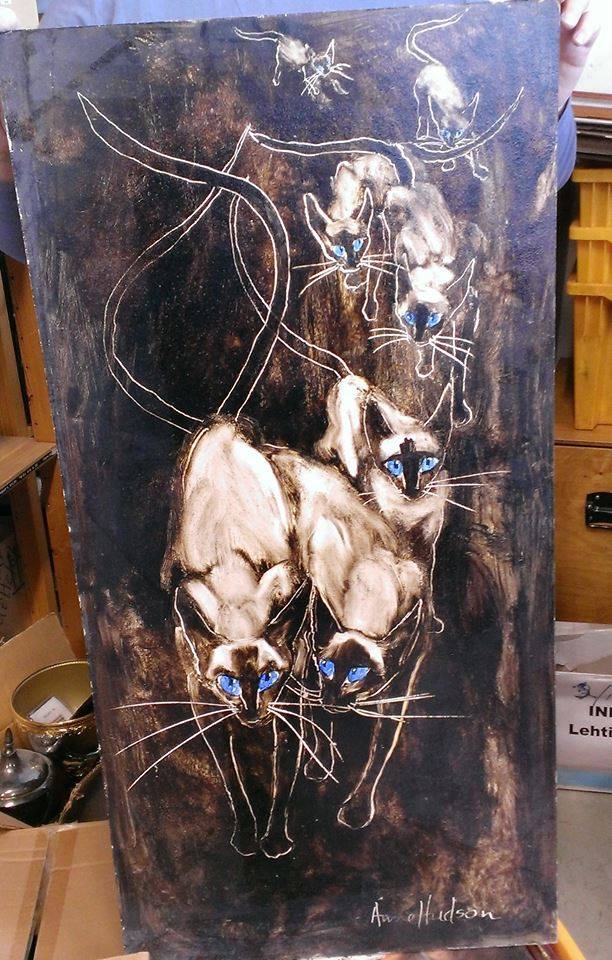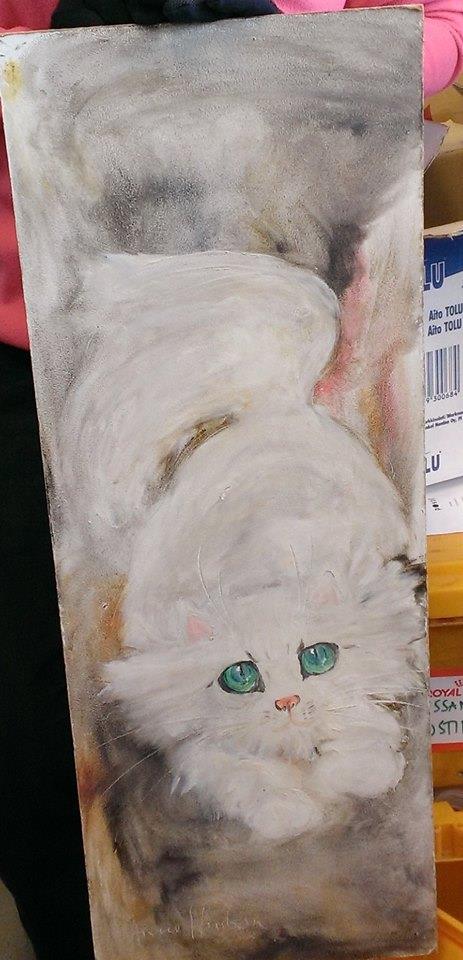 ---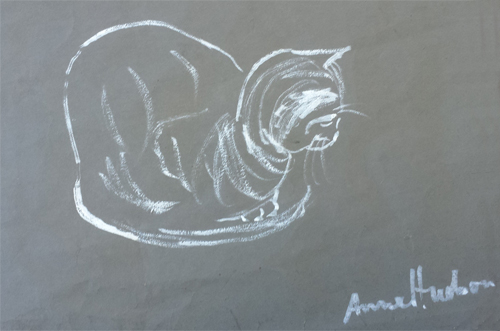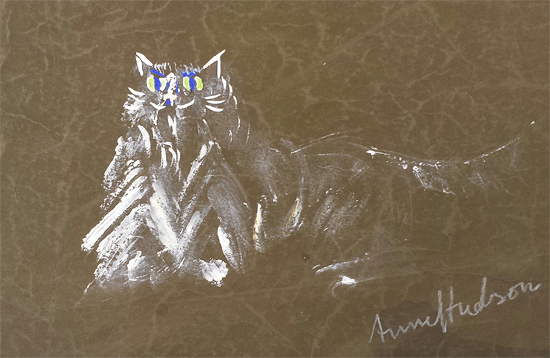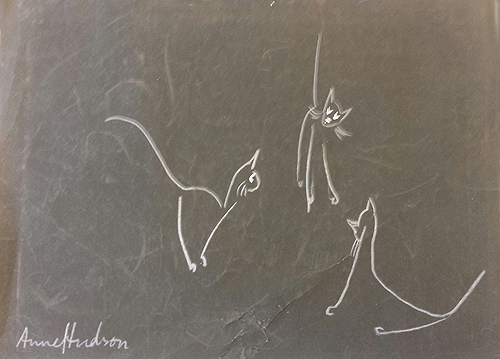 Hello in the 40s my dad was in a pub somewhere in England and Anne was trying to sell her art. My dad bought these and they are in Seal Beach , California.
Babziz
---
If you have a picture of Anne's paintings or even of Anne herself, please send it to me and I might include it in this page.
Please note, if you have contacted me earlier; I have a new mail